Our Work
Commercial
Domestic
Education
Historic/Listed
Leisure
Residential
Retail
Specialist
Temporary works

BBC Cardiff
| | |
| --- | --- |
| Architect | – |
| Client | ISG plc |
| Contract value | £120m |

Project Sims Recycling
| | |
| --- | --- |
| Architect | HLN |
| Client | Dudleys/Sims Group |
| Contract value | £7.5m |

Langdons Lorry Park
Bridgwater
| | |
| --- | --- |
| Architect | – |
| Client | Langdons |
| Contract value | £1.0m |

New Build Pool House
| | |
| --- | --- |
| Architect | Artisan Landscapes |
| Client | – |
| Contract value | – |

Loft Extension and Structural Alterations
| | |
| --- | --- |
| Architect | NH Plans |
| Client | – |
| Contract value | – |

Hans Price Academy
Weston-super-Mare
| | |
| --- | --- |
| Architect | BDP |
| Client | Willmott Dixon |
| Contract value | £13m |

Student's Union, UWE
Bristol
| | |
| --- | --- |
| Architect | BAM |
| Client | Stride Treglown |
| Contract value | £6.6m |

Taunton Academy
| | |
| --- | --- |
| Architect | Stride Treglown |
| Client | Somerset LEP |
| Contract value | £7.5m |

Construction Skills Centre
Wiltshire College
| | |
| --- | --- |
| Architect | EWA |
| Client | Wiltshire College |
| Contract value | £2.5m |

Link Building
Wiltshire College
| | |
| --- | --- |
| Architect | AWW Architects |
| Client | Wiltshire College |
| Contract value | £1.5m |

Chew Valley School
6th Form Centre
| | |
| --- | --- |
| Architect | Bush Consultancy |
| Client | BANES |
| Contract value | £1.2m |

Sure Start
Old Mixon
| | |
| --- | --- |
| Architect | GJS Architects |
| Client | North Somerset District Council |
| Contract value | £1m |

Stepney Green
Sixth Form Centre
| | |
| --- | --- |
| Architect | AWW Architects |
| Client | Tower Hamlets |
| Contract value | £4.2m |

'A' Bond
Bristol
| | |
| --- | --- |
| Architect | – |
| Client | Bristol City Council |
| Contract value | – |

Kensington Place
| | |
| --- | --- |
| Architect | Aukett Fitzroy Robinson |
| Client | Battle Properties |
| Contract value | £1.2m |

Barton Vale
Bristol
| | |
| --- | --- |
| Architect | Vibe Architects Ltd |
| Client | Wentworth Developments |
| Contract value | £1.5m |

Waitrose
Wells
| | |
| --- | --- |
| Architect | Sutton Griffin |
| Client | Discovery Properties |
| Contract value | £3.5m |

Tesco
Bedworth
| | |
| --- | --- |
| Architect | Inspire Design |
| Client | Bowmer and Kirkland |
| Contract value | £13.5m |

Marks and Spencer
Exmouth
| | |
| --- | --- |
| Architect | Inspire Design |
| Client | Kilo Properties |
| Contract value | £2m |

Waitrose
Wichelstowe
| | |
| --- | --- |
| Architect | Inspire Design |
| Client | Kilo Properties |
| Contract value | £3.9m |

Wren Kitchens
Croydon
| | |
| --- | --- |
| Architect | Polkey Collins |
| Client | Wren Kitchens |
| Contract value | £1m |

The Old Rectory
Swimming Pool
| | |
| --- | --- |
| Architect | Greenway Lee Architects |
| Client | Private Client |
| Contract value | £1.25m |

Cardiff Bay Tower
| | |
| --- | --- |
| Architect | Widley Fox |
| Client | – |
| Contract value | £17m |

Mercedes F1
Motorhome Base
| | |
| --- | --- |
| Architect | – |
| Client | Mercedes AMG |
| Contract value | £0.5m |

Williams F1
Motorhome Base
| | |
| --- | --- |
| Architect | – |
| Client | Williams F1 |
| Contract value | £2m |

Toyota Stand
Goodwood
| | |
| --- | --- |
| Architect | – |
| Client | Layher Limited |
| Contract value | – |

Premier Inn
Tottenham Hale
| | |
| --- | --- |
| Architect | KKA |
| Client | RGB |
| Contract value | £5.5m |

Casino Extension
Park Lane Hilton
| | |
| --- | --- |
| Architect | – |
| Client | Hilton Group |
| Contract value | £0.9m |

Vertical Rugby
| | |
| --- | --- |
| Architect | – |
| Client | Layher Limited |
| Contract value | – |

Forth Road Bridge
Scaffolding
| | |
| --- | --- |
| Architect | – |
| Client | Brand Energy |
| Contract value | £15m |
BBC Cardiff
We designed the tower crane bases for the new £120m
headquarters for BBC Wales. The project is scheduled for
completion in late 2018/early 2019 and located beside
Cardiff Central Station. The crane heights reach over 50m
which, combined with jib lengths of up to 60m, required
substantial piled base designs.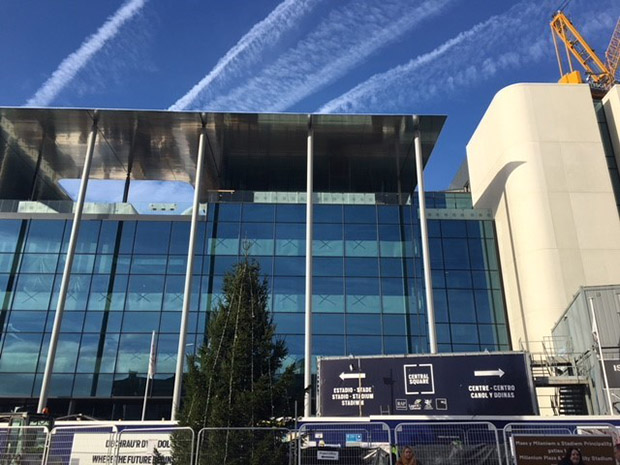 Project Sims Recycling
| | |
| --- | --- |
| Architect | HLN |
| Client | Dudleys / Sims Group |
| Contract Value | £7.5m |
As a company we fully support projects which help reduce
embodied energy and our carbon footprint.
We are fortunate to be acting as Structural and Civil
Engineers to Dudleys for Sims Group in Newport. The new
recycling building and associated offices will improve the
efficiency and comfort for our client and allow recycling of
various materials to continue into this century.
By working closely with our client Dudleys to value engineer
the design we were able to bring the project within budget
at the tender stage and allow construction to begin.

Langdons Lorry Park, Bridgwater
| | |
| --- | --- |
| Client | Langdons |
| Contract Value | £1.0m |
JDL Consultants undertook the detailed design of a new lorry
park at Langdons in Bridgwater. The design comprised long
strip concrete surfacing with surface water altercation.
Local Drainage Board approval was also obtained as two
crossovers were designed to cross a drainage ditch.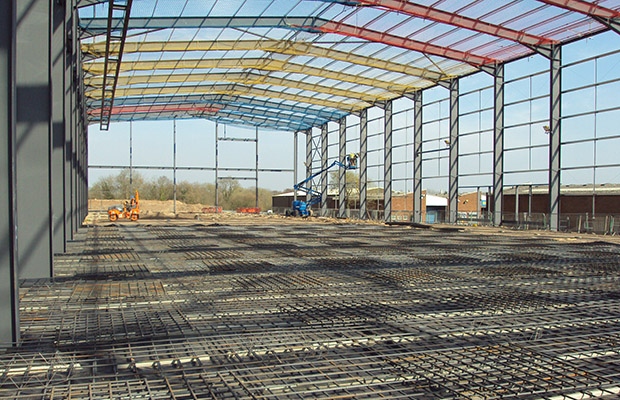 New Build Pool House
| | |
| --- | --- |
| Architect | Artisan Landscapes (www.artisanlandscapes.co.uk) |
JDL were instructed to undertake the structural design
relating a proposed new build pool house.
The proposed new build structure was to be constructed with
stone walls built off of strip foundations, with a timber
clad roof. Steelwork was designed to support the
cantilevering roof structure.

Loft Extension and Structural Alterations
| | |
| --- | --- |
| Architect | NH Plans (www.nhplans.co.uk) |
JDL carried out the structural design relating to a dormer
loft conversion, as well as internal alterations within the
existing terraced property.
The proposed loft extension was to be constructed with
timber built off of steels spanning the width of the
property. A steel ridge was designed to support the roof
structure to allow for the proposed dormer loft space.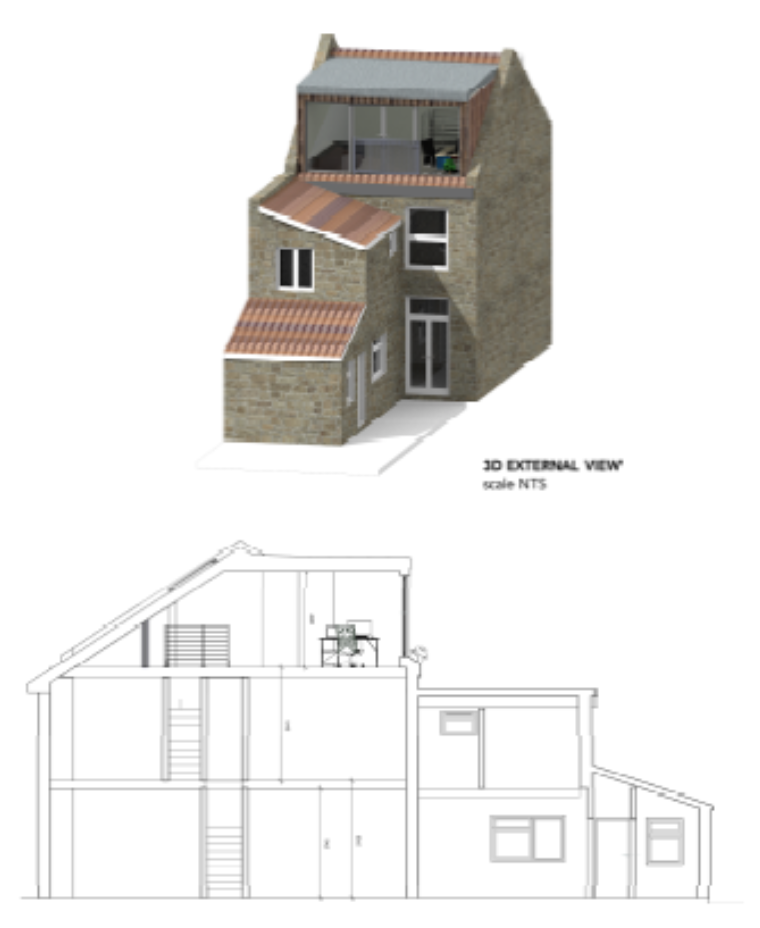 Hans Price Academy
| | |
| --- | --- |
| Architect | BDP |
| Client | Willmot Dixon Construction |
| Contract Value | £13m |
| Duration | 2012 to 2013 |
| Services | Full Civil and Structural Design |
This project was won through the Academies Framework, in
competition, and required JDL to design very cost effective
engineering solutions to maximise the budget available for
educational benefit. We were approached by Willmott Dixon to
join their team from the expression of interest stage and
stayed with them as we won through the various stages.
The programme on all Academy projects is very compressed
with very little time from award of contract to start on
site and this was no exception. The project involves both
in-situ concrete flat slabs and steel framed buildings with
piled foundations. We have also fully designed the extensive
external drainage and hard paved areas. We also successfully
completed detailed consultations with the EA over flooding
as the site is within a zone 3 flood area.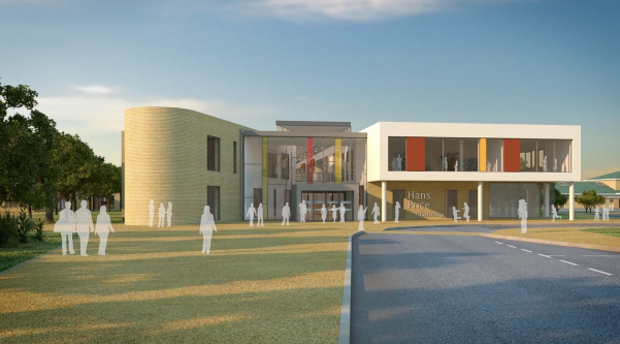 Student's Union, UWE, Bristol
| | |
| --- | --- |
| Architect | BAM |
| Client | Stride Treglown |
| Contract Value | £6.6m |
We are employed as civil and structural engineers for the
development of a new Students Union building at the
University of West of England. The new building will have a
gross internal floor area of circa 3,000m2 and has just been
completed.

Taunton Academy
| | |
| --- | --- |
| Architect | Strides |
| Client | BAM Construction |
| Contract Value | £7.5m |
| Duration | 2012 to 2014 |
| Services | Full Civil and Structural Design |
We were approached by BAM Construction to make a proposal to
join their team in competition against other consultants.
BAM selected JDL and we went on to secure this project with
BAM.
The new academy is a mixture of new 2 and 3 story buildings
and structural adaptations of existing buildings, including
stripping one 1960's building back to the bare structure.
This project has complicated phasing arrangements on a very
confined site. We have designed significant drainage
attenuation to allow the existing drainage outlets to be
used with flows limited.
Our designs have had to meet the strict bench mark budgets
for the current Academies building programme.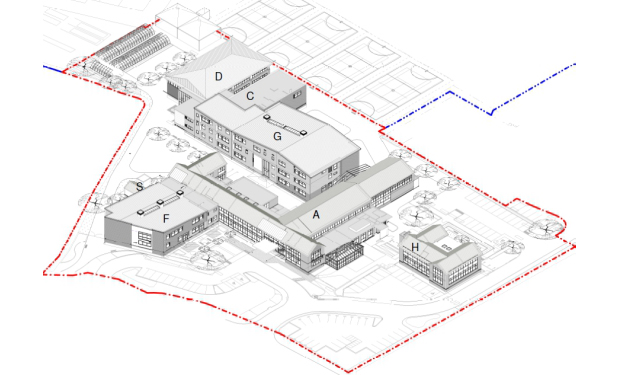 Construction Skills Centre, Wiltshire College
| | |
| --- | --- |
| Architect | EWA |
| Client | Wiltshire College |
| Contract Value | £2.5m |
| Duration | 2013 to present |
| Services | Full Civil and Structural Design |
This project is currently out to tender and we will be
novated to the contractor under a D&B form of procurement.
The engineering challenges of this project are all based
around achieving the very least cost structural and civil
engineering design and de-risking the project to make it
attractive to the D&B contractor.

Link Building, Wiltshire College
| | |
| --- | --- |
| Architect | AWW |
| Client | Wiltshire College |
| Contract Value | £1.5m |
| Duration | 2012 to 2013 |
| Services | Full Civil and Structural Design |
This was a traditional contract to remodel some existing
buildings at the campus and create a new Link Building with
some "wow" factor to provide the College with a new entrance
and reception area. The finished Link Building is
contemporary and impressive and with the structural
alterations to the existing Ashton Building has given this
part of the campus a real lift in terms of ambiance. The
engineering challenges were very much centred on working in
and around existing services and structures.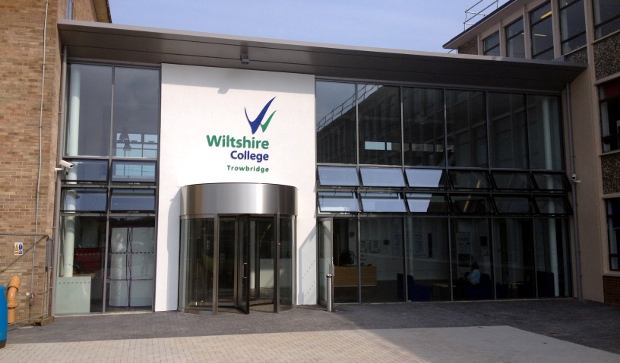 Chew Valley School – Sixth Form Centre
| | |
| --- | --- |
| Architect | Bush Consultancy |
| Client | Bath and North East Somerset Council (BANES) |
| Contract Value | £1.2m |
A new sixth form centre for the school, comprising a two
storey steel framed building with a large ground floor
common room and entrance lobby which can also be used as
reception space for school functions. The building required
long span structures to create the clear open space and we
were able to create an efficient structure by using pre-cast
slabs casting them compositely with the steel beams to the
upper floor level.
The new facilities include a 6th Form Café Common room,
study area, seminar room, photographic dark room and
Creative & Media suite.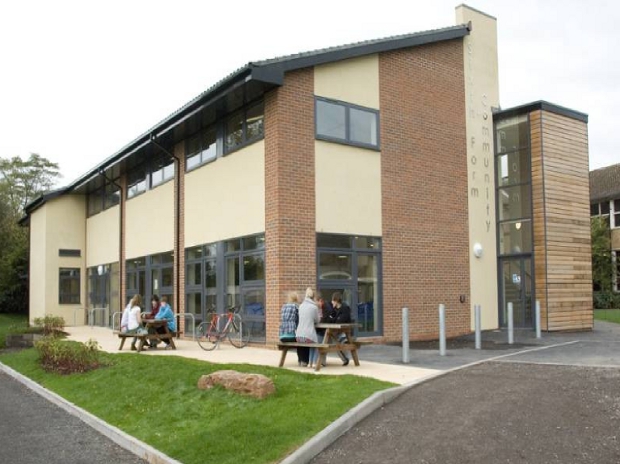 Sure Start Old Mixon
| | |
| --- | --- |
| Architect | GJS Architects |
| Client | North Somerset District Council |
| Contract Value | £1.0m |
This is a new building for North Somerset Council comprising
a feature glulaminate timber frame stabilised using a stress
skinned plywood roof back to timber infill panels which
again are plywood skinned and provide lateral restraint.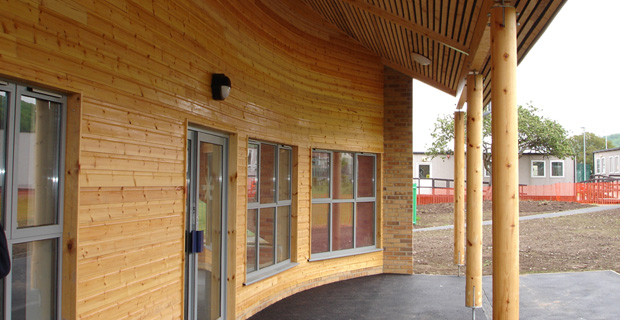 Stepney Green Sixth Form Center
| | |
| --- | --- |
| Architect | AWW |
| Client | Tower Hamlets |
| Contract Value | £4.2m |
This three storey sixth form building sits directly on the
back of the pavement and has been designed to create some
"wow" factor for the school and as landmark. The building is
on a road junction with a curved pavement and hence the
front of the building is fully curved with continuous
curtain walling at ground floor level. The first and second
floor cantilever over the ground floor line on the curved
elevation.
To reduce cost the pad foundations sit on vibro improved
ground rather than piling. The frame is steel with a number
of radius members with concrete metal deck floor. The use of
true curves rather than facets created a number of detailing
challenges that have been overcome.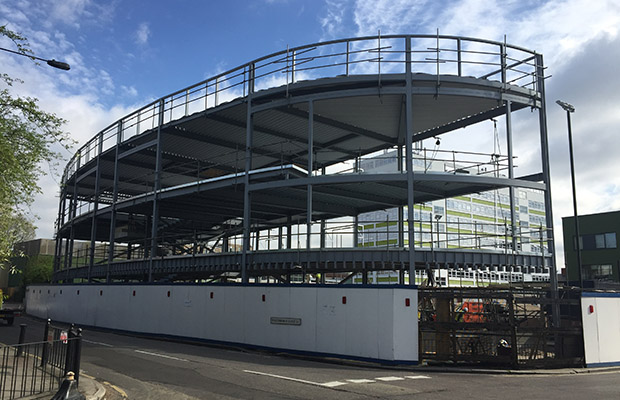 Bristol City Council
| | |
| --- | --- |
| Client | Bristol City Council |
'A' Bond is one of 3 former bonded warehouses (the others
being 'B' Bond and 'C' Bond) which have become Bristol
landmarks. All three are now listed. An interesting
building, 'A' Bond has a frame of steel stanchions on the
lower 2 floors and iron on the rest, carrying RSJs to
segmental-arched concrete floor slabs. It is open plan, in 2
equal parts separated by central spine wall. 9 storeys high
it has 18 windows across each of the longer sides on each
floor and is and brick built. We were asked to undertake a
full internal and external structural survey of 'A' Bond
which was undertaken by two teams, and a detailed report was
produced with AutoCAD drawings of each floor.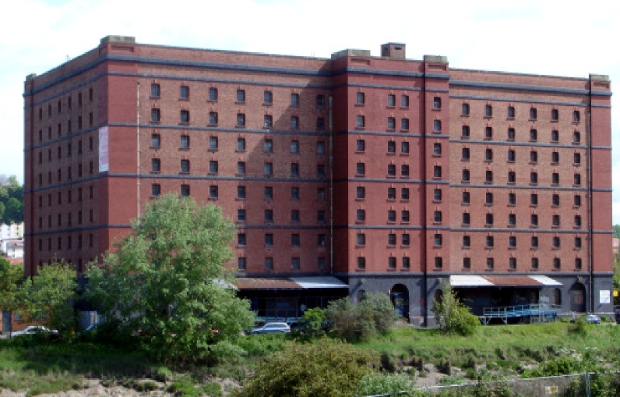 Premier Inn Tottenham Hale
| | |
| --- | --- |
| Architect | KKA |
| Client | RGB |
| Contract Value | £5.5m |
We were employed as structural engineers for the development
of a new Premier Inn building at Tottenham Hale, London. The
96-room hotel caters for an estimated 30,000 guests per year
from its site in Station Road. The development marks the
first major strategic development in the Tottenham Hale
Master Plan.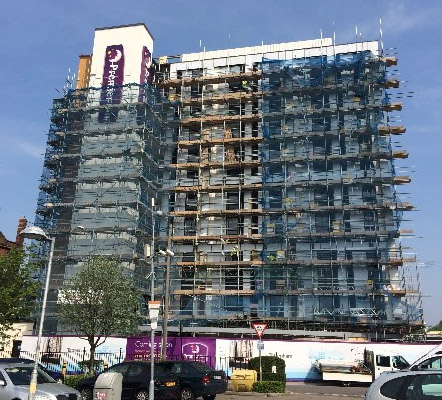 Casino Extension – Park Lane Hilton
| | |
| --- | --- |
| Client | Hilton Group |
| Contract Value | £0.9m |
This was a particularly interesting project which involved
the construction of casino 'pods' on top of the Park Lane
Hilton. The pods were manufactured off site and craned into
position which involved the temporary closure of Park Lane
to enable the pod delivery lorries to be carefully
positioned to the crane lifting area.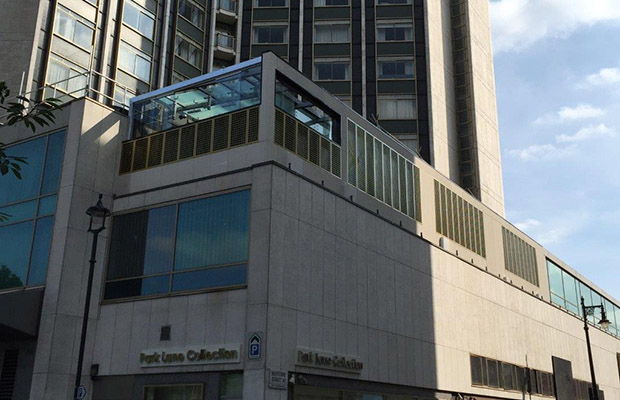 Vertical Rugby
As part of the preparation for the 6 nations rugby contest
in 2007 we assisted in designing a fascinating scaffold
design for the sponsors of the competition.
JDL prides itelf in not only working on lucrative high fee
projects but also enjoying the work which we undertake and
occasionally engineering the weird and wacky.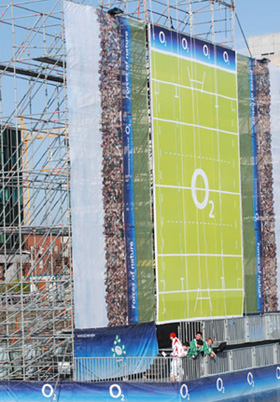 Kensington Place
| | |
| --- | --- |
| Architect | Aukett Fitzroy Robinson |
| Client | Battle Properties Limited |
| Contract Value | £1.2m |
A new build development of 10 stylish apartments in Clifton
Village, Bristol. We have worked with the design team to
develop high quality yet buildable details to maximise the
sales value of the apartments.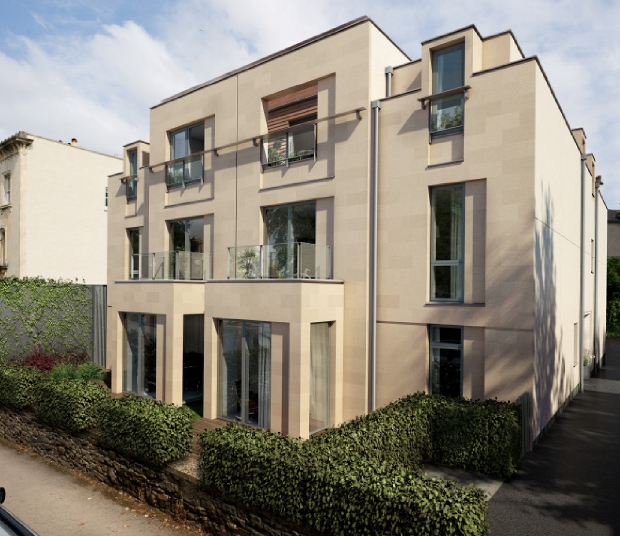 Barton Vale, Bristol
| | |
| --- | --- |
| Architect | Vibe Architects Ltd |
| Client | Wentworth Developments |
| Contract Value | £1.5m |
Working closely with clients is one of our greatest
abilities. We understand the pressures of cost management
and the desire to change the design as the project develops.
By continually adding value to the project you as the client
will be able to achieve the building that meets your brief,
however that may change during the contract.
Although we live in a claim and blame culture regarding
engineering & design our pragmatic approach to the projects
we work on is second to none. We work through your problems
and not against them.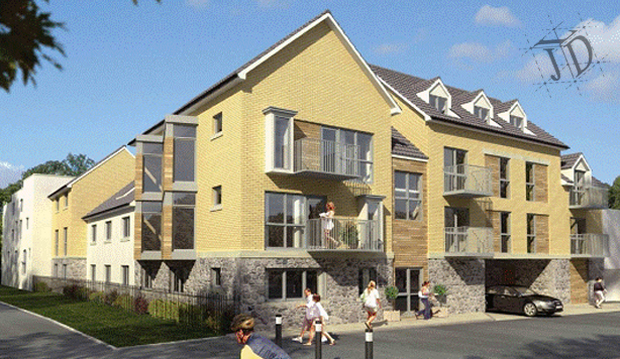 Waitrose, Wells, Somerset
| | |
| --- | --- |
| Architect | Sutton Griffin Architects, Newbury |
| Client | Discovery Properties |
| Contract Value | £3.5m |
| Duration | 2012 to 2013 |
| Services | Full Civil and Structural Design |
This project is a Waitrose Store of approximately 3,500 sqft
size which has been constructed on a site to the south west
edge of Wells city centre. The site was extremely compact
and the store has been set into the ground with perimeter
king post retaining walls to reduce the usual impact to the
surrounding areas.
As part of the development a new raised car park deck was
designed and built using a reinforced concrete frame to the
side of the store. The main building frame was designed as a
braced frame structure and was modelled using Revit 3D
software. The drainage was a complex arrangement which
required detailed negotiation with the Local Authority
drainage engineer.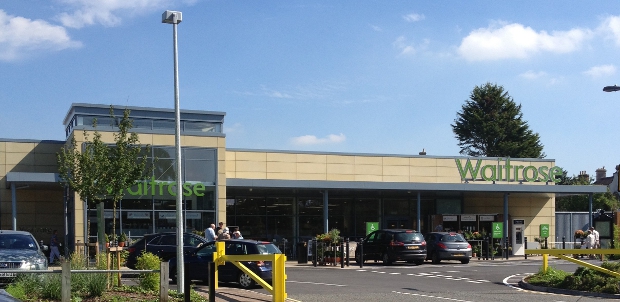 Tesco Bedworth, Coventry
| | |
| --- | --- |
| Architect | Inspire |
| Client | Bowmer and Kirkland |
| Contract Value | £13.5m |
| Duration | 2010 to 2011 |
| Services | Full Civil and Structural Design |
This project is very large new Tesco Store built "on legs"
over a new car park. We were appointed by the developer for
the site and then subsequently novated to the contractor
under a D&B contract. Both the design and build programme
were very compressed and we had to work very closely with
the contractor and his specialist package sub-contractors.
The store is 9960m² in footprint and is formed as a steel
frame with precast floors. To enable a coherent car park
strategy, the undercroft column grid is arranged as 16m x
7.5m with the store grid footprint arranged at 16m x 6m
using transfer beams at sales floor level. There are also
new retail units separate to the main building which are
positioned on the pedestrian route to the adjacent town
centre.
As much as possible of our design involved prefabricated
elements to speed the construction process.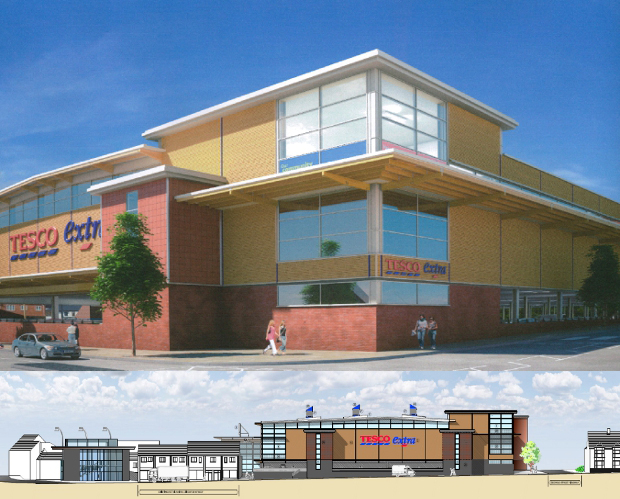 Marks and Spencer, Exmouth
| | |
| --- | --- |
| Architect | Inspire Design |
| Client | Kilo Properties |
| Contract Value | £2m |
This project comprised 1,600sqm construction adjacent to the
Train Station in Exmouth. The building comprises piled
foundations and suspended piled reinforced concrete floor
slab with a steel frame superstructure supporting a
composite deck mezzanine floor.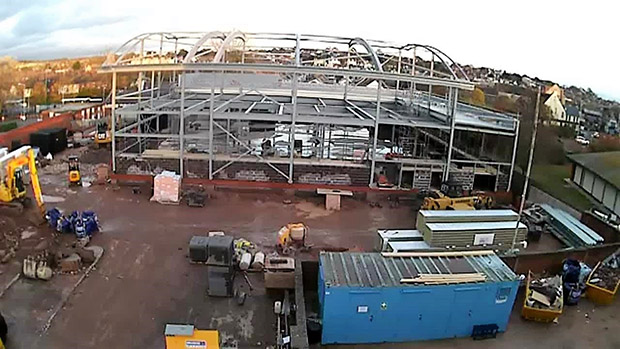 Waitrose, Wichelstowe
| | |
| --- | --- |
| Architect | Inspire Design |
| Client | Kilo Properties |
| Contract Value | £3.9m |
JDL Consultants undertook the full building structural
design and external works design for this interesting
butterfly roof for this 40,420 sq ft store. The store is
part set into the ground against a road on two sides and in
part was designed to support the highway.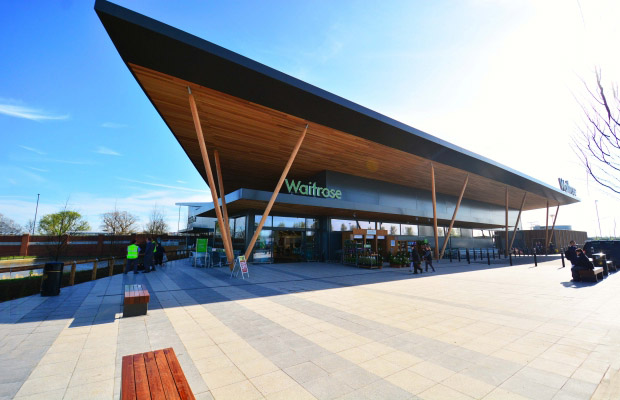 Wren Kitchens, Croydon
| | |
| --- | --- |
| Architect | Polkey Collins |
| Client | Wren Kitchens |
| Contract Value | £1m |
This project comprised undertaking a complete replacement of
the perimeter enclosure with a new steel structure
supporting a new curtain wall glazing system, including a
complete re-roof of the retail unit with new insulated
profiled deck floor.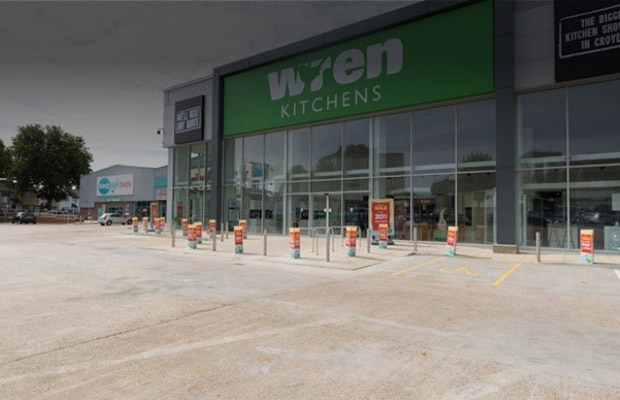 The Old Rectory Swimming Pool
| | |
| --- | --- |
| Architect | Greenway Lee Architects |
| Client | Private Client |
| Contract Value | £1.25m |
Although still in the early stages at this time, we have
recently been commissioned to work with Greenway Lee in
London to develop the design of a cutting edge swimming pool
for a new client in the South East.
Unlike typical designs the unique roof is required to fold
back completely to be hidden beneath the pool base, a design
which has required us to rewrite the rule book regarding
swimming pool roof construction.
By modelling the RC elements in 3 dimensions we were able to
conceive the roof design and understand the further stages
required in the design.
We hope that this fantastic design opportunity will progress
beyond the initial stages so that we can demonstrate our
unique approach to engineering and working closely with top
architects to achieve perfection.

Cardiff Bay Tower
| | |
| --- | --- |
| Architect | Widley Fox |
| Contract Value | £17m |
As part of the initial planning stages of the project, JDL
undertook a feasibility study into the effects of the tower
on pedestrians at podium level.
By working with students at the University of Bath we were
able to computer model using Computational Fluid Dynamics
the effects of wind on pedestrians in the public areas.
The downdraughting of wind as it hits tall buildings is
widely documented and can have detrimental effects on public
spaces surrounding the buildings. The shape of this building
in particular with its sail form façade was particularly
concerning to the planners and undertaking CFX modelling
provided an insight into the possible wind speeds around the
entrance.
The conclusion in this case was that although the sail forms
would push wind downwards the main flow around the tower
remained laminar until the vortex shedding occurred directly
downstream of the sails. The effect to pedestrians would be
minimal as the predominant flow was around rather than down
the façade.
Unfortunately in this case the design was later
substantially changed to reduce cost and the reality was
never realised.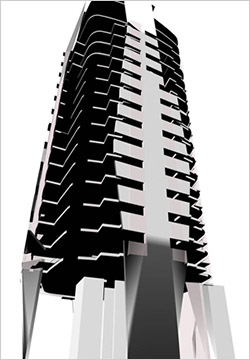 Mercedes F1 Motorhome Base
| | |
| --- | --- |
| Client | Mercedes AMG |
| Contract Value | £0.5m |
This project involved the design of a demountable support
base for the motor homes used at the European F1 Racing
events.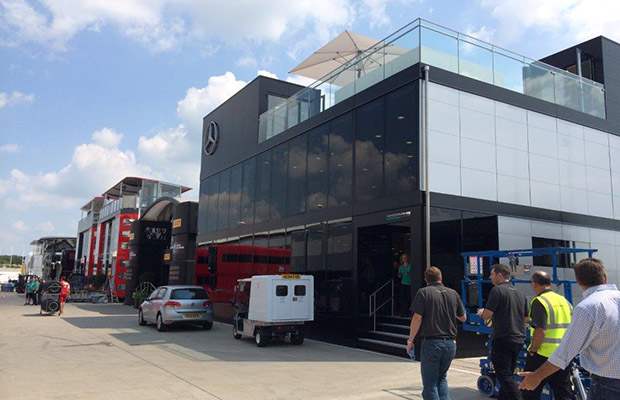 Williams F1 Motorhome Base
| | |
| --- | --- |
| Client | Williams F1 |
| Contract Value | £2m |
We were involved in the design of the full superstructure,
demountable modular system together with the support base
for the motor homes used by Williams F1 at the European F1
Racing events. This had to be designed to enable erection by
forklifts to suit Bernie Ecclestone's requirements.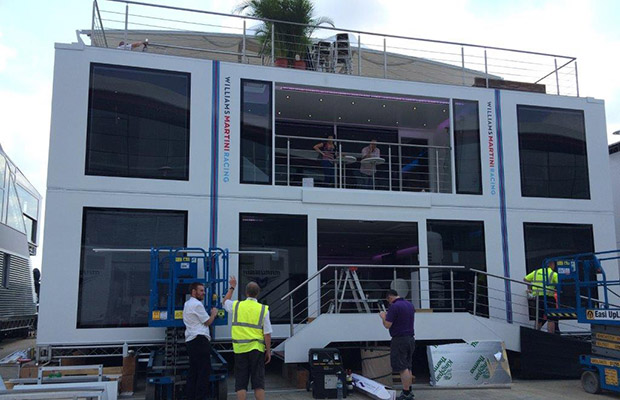 Toyota Stand, Goodwood
We assisted by checking the structural design of this stand
which was used at the Goodwood Festival of Speed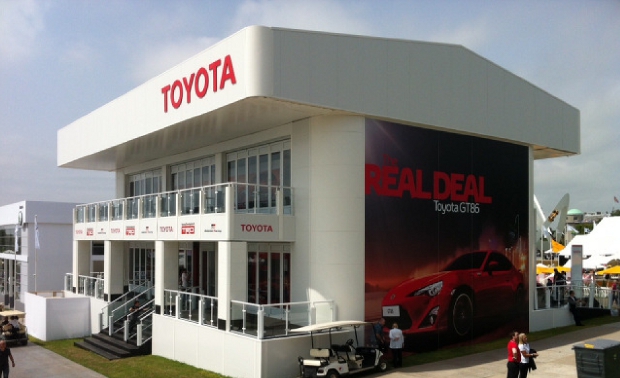 Forth Road Bridge Scaffolding
Working with a scaffold design company we have checked the
temporary scaffold systems for the maintenance works to the
Forth Road Bridge. This included scaffold systems suspended
from the bridge which is subjected to high winds running off
the Firth of Forth. It comprised design of systems required
for urgent maintenance in late 2015 in which steelwork
defects were discovered following a routine inspection
resulting in the closure of the bridge.